Epson Stylus Color 640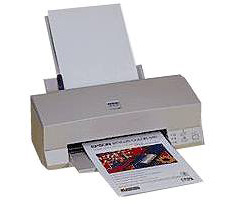 4 Colour Inkjet Printer
Unbeatable 1440 dpi printing at an unbeatable price
Designed as a Windows only printer, the Epson Stylus COLOUR 640 is the perfect Photo Quality printer for desktop publishing at home. Whether you're printing a school project, a newsletter, party invitations or images from the web you'll be amazed at the colour capabilities of this printer. What's more Photo Quality output comes standard with the Epson STYLUS COLOR 640 - there's no need to purchase expensive options or additional photo cartridges.

It features true 1440 x 720 dpi resolution and Epson's exclusive PerfectPicture Imaging System to deliver Photo Quality images and sharp black text with ease. Even when printing 720 x 720 dpi on plain paper, the Epson STYLUS COLOR 640 stands heads and shoulders above its competitors.

To help you enjoy the features and performance of the Epson STYLUS COLOR 640 the new innovative driver software offers full support for Windows 95 and Windows 98 operating systems.

Achieving perfect results couldn't be easier with the new PhotoEnhance function. With this function enabled the printer driver analyses your print job and makes brightness, contrasts and colour adjustments automatically WITHOUT affecting the original image file.

Other new functions within the printer driver software include a 'Print Layout' function which allows several pages to be reduced and printed on a single page for proof reading. A 'Fit-to-Page' function which prints enlarged or reduced documents without you having to worry about complicated settings.And, an innovative 'watermarking' capability which lets you choose from several predefined watermarks such as "Confidential", "Draft" and "Top Secret" or you can create your own personal watermark. The driver software lets you control the size, colour, placement and intensity of the watermark.

The Epson STYLUS COLOR 640 features separate black and tri-colour cartridges avoiding the need to change ink cartridges when switching between colour and black printing modes. While our QuickDry Inks produce stunning printouts that are ready to handle the moment they leave the printer!

EPSON is the registered trademark of SEIKO Epson Corporation.
EPSON ESC/P2 and Epson Stylus are trademarks of SEIKO Epson Corporation.
MicroDot is a trademark of Epson Australia Pty Limited.
All other product names and other company names used herein are for identification purposes only and may be the trademarks or registered trademarks of their respective owners. Epson disclaims any and all rights in those marks.
Specifications are subject to change without notice.