Epson Stylus Color 760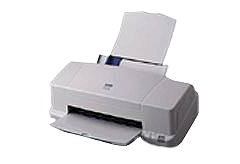 4 Colour Inkjet Printer
Superb performance for the advanced home and small business user.
The new Epson Stylus COLOUR 760 incorporates the latest state-of-the-art technology to ensure it is right at home meeting the demands of the advanced home and office user. By combining Epson's Advanced Variable-Sized Droplet technology and Ultra Micro Dots with Epson's award winning PerfectPicture Imaging System, the Epson STYLUS COLOR 760 has created a new standard of image quality for the SOHO environment.
The Epson STYLUS COLOR 760 takes the acclaimed quality of our 1440 dpi PerfectPicture Imaging system one step further with 4 picolitre Ultra Micro Dot printing. The result is images that are so fine-grained, they are virtually indistinguishable from photographs.
Combined with Advanced Variable-Sized Droplet technology, the Epson STYLUS COLOR 760 delivers a precisely controlled blend of small, medium and large ink droplets. The result is greater detail and smoother halftones and gradations without sacrificing print speed.
The Epson STYLUS COLOR 760 is the ideal solution for printing business presentations, desktop publishing projects and digital photographs. It's PC and Macintosh compatible and offers the advantages of USB connectivity.
What's more, with it's ability to produce true 1440 x 720 dpi printouts even on plain paper means you can include eye-catching colour charts and graphics in all printed material.
An improved new user interface features a full function on-screen status monitor. Customers can check ink levels and paper availability at a glance, while the new Epson PhotoEnhance function analyses the print job and makes image adjustments without affecting the original file. Customers can also choose to enhance their images manually.
Basic improvements of the PhotoEnhance 4 function over previous versions include:
Five tone variations (monochrome, normal, hard, vivid and sepia) means customers can produce sepia-style prints.
Additional effects (sharpness, soft focus, canvas and parchment) have been included. For example, customers who'd like their final output to look like it's been printed on canvas would choose the canvas option.


The printable area of the Epson STYLUS COLOR 760 has been increased which means you can set the margin to 3mm on all four sides of an A4 document - perfect when printing enlargements of your favourite photo.
EPSON's exclusive PerfectPicture Imaging System combined with new innovative driver software that's extremely simple to use, makes this printer the perfect match for any home office.