Press Releases
Epson launches new SureColor SC-P800 A2+ photo printer in Australia
July 2015
Large format desktop printing with enhanced colour density and optional roll media support for professional photographic, fine art and graphic work
SYDNEY, 9 July 2015 – Epson today announced that it has launched the new SureColor SC-P800 A2+ photo printer in Australia. Designed for professional photographers and graphic artists who need to print, display and sell their work the printer features a wide colour gamut, exceptional Dmax, flexible media handling and large cost-effective ink cartridges. The SC-P800 also supports WiFi connectivity, Cloud Print services and ships with an extensive software suite.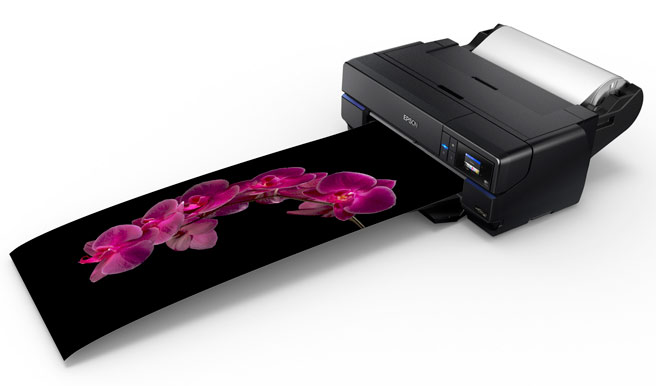 The SureColor SC-P800 is the successor to the highly acclaimed Stylus Pro 3880 and was developed for users who need to create precise, long-lasting, high-quality photo and graphic images to exhibit and sell. It incorporates the same MicroPiezo™ print head and advanced LUT technology for precise and predictable high resolution imaging up to 2880x1140dpi and uses Epson's latest Ultrachrome HD ink which was released with the smaller SC-P600 A3+ model earlier this year. The SC-P800 uses the same 9 colour ink-set but in larger 80ml cartridges1. The ink offers an exceptionally large colour gamut with the highest Dmax in the market2, to enable outstanding results in both colour and black and white. The ink also provides improved lightfastness3, so prints will remain bright, crisp and clear.
The SC-P800 has been designed to be easy and flexible to use shipping with an advanced driver and incorporating a 2.7" colour touch panel with gesture control. It features a large multi-sheet rear tray as well as a new front paper path for fine art media. An optional Roll Paper unit can also be attached giving support for rolls in widths from 13" to 17" to enable long panoramic prints and operation with an enhanced range of speciality media stocks.
The SC-P800 printer ships with an extensive suit of software including upgraded ColorBase2 which enables simple and fast colour calibration using a range of common spectrometers. Also included is new Epson Print Layout software which works in conjunction with common photo editing software including Adobe Photoshop, Lightroom and Nikon ViewNX-i to enable fast and flexible output to suit a wide variety of print and display requirements. Graphics and photos can be formatted for printing either as a single image or as a compound image using a range of pre-designed templates and or custom settings. Colour can be adjusted to suit different presentation styles and there is an Advanced Black and White mode for professional work. The SC-P800 also provides soft proofing functionality, supports custom media registration and incorporates a Gallery Wrap mode with a range of edge settings to suit images that need to be frame mounted.
A new design adds to the SureColor SC-P800's high-quality look and feel. Designed to suit a design studio or home office, it features an extremely small footprint and advanced connectivity not only supporting USB and Ethernet connection but also WiFi. Users can print photos from their chosen device without a wireless connection via WiFi Direct or remotely via Apple Airprint™ and Google Cloud Print™.
The SureColor SC-P800 is available now in Australia and will be available in New Zealand in August.
Picture credits:
Epson's new SureColor SC-P800 A2+ photo printer with roll adapter and long printed output.
---
Notes
1 The printer ships with a set of 64ml starter cartridges
2 Compared against competitors' A2 photo printers with a 6-colour or greater ink-set available as of January 2015. 2.86 Dmax printed on Epson Premium Glossy Photo Paper.
3 Compared to Epson Ultrachome K3 ink. Lightfastness of Ultrachrome HD ink has been calculated at approximately 60 years using accelerated age testing under the JEITA CP‐3901A standard (A4 glossy paper, temperature 23°C and humidity 50%). When stored appropriately in an album images have an estimated stability of over 200 years.
About Epson
Epson is a global technology leader dedicated to driving innovations and exceeding customer expectations in printing, visual communications, quality of life and manufacturing. Epson's lineup ranges from inkjet printers, printing systems and 3LCD projectors to industrial robots, smart glasses and sensing systems and is based on original compact, energy-saving, and high-precision technologies.
Led by the Japan-based Seiko Epson Corporation, the Epson Group comprises nearly 70,000 employees in 94 companies around the world, and is proud of its contributions to the communities in which it operates and its ongoing efforts to reduce environmental burdens.
http://global.epson.com/

Epson Australia offers an extensive array of award-winning image capture and image output products for the commercial, industrial, consumer, business, photography and graphic arts markets, and is also a leading supplier of value-added point-of-sale (POS) solutions for the retail market. Epson is the market leader in Australia and worldwide in sales of projectors for the home, office and education. Established in 1983 Epson Australia is headquartered in North Ryde NSW and is a subsidiary of the Epson Group headquartered in Japan.
www.epson.com.au
International Press Releases
Read them at: http://www.epson.co.jp/e/newsroom/newsroom_index.htm