Press Releases
Epson Launches New Advanced 64" S-series Signage Printer Range
January 2016
Faster, simpler, better print quality and lower running costs
SYDNEY, 20 January 2016 - Epson has launched its new, highly advanced 64" roll-to-roll signage printer range, the SureColor S-series. The new S-Series consists of three models – the SC-S40600 for flexible lower cost production, the SC-S60600 for high speed continuous production and the flagship SC-S80600 for high colour production with maximum application support.
The new models feature a significant number of enhancements that enable superior quality production with simpler, faster and more efficient operation. Brighter and glossier prints are produced using less ink and power and production speeds have been increased while drying times have been reduced. Job turnaround is also faster and there is enhanced reliability and reduced maintenance on all three models.
All three S-series models feature the latest PrecisionCore print heads and use new UltraChrome GS3 Eco-Solvent ink. The heads support resolutions up to 1440x1440dpi and are driven with Epson Precision Dot Technology for better imaging. The heads provide enhanced durability and are self-cleaning whilst the ink has been formulated for an enhanced gamut range with significantly higher gloss levels and faster drying. The ink also features a higher pigment density for brighter prints with enhanced depth using less consumption.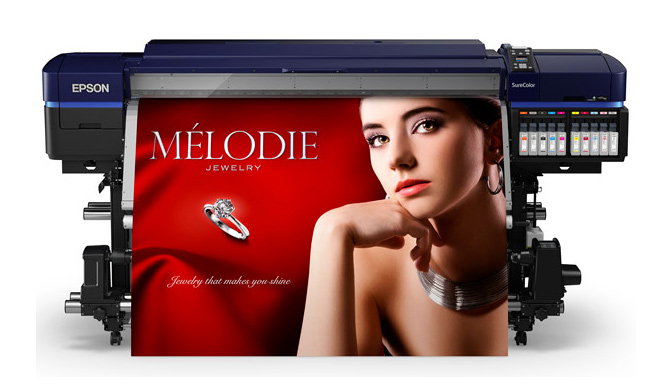 SC-S80600
General Manager, Business Division, Epson Australia Craig Heckenberg said, "The new S-Series represents the culmination of over three years work which commenced with extensive customer surveys and functional analysis. Our engineers made significant technical improvements while the design team made extensive operational enhancements. As a result we have not only increased performance and print quality, but also productivity and reliability. So jobs are quicker to complete, machines are easier to operate and require less user maintenance."
The SureColor SC-S40600 has a 4 colour configuration with a gamut range that exceeds competitors with 6 or more colours. The S60600 has the same 4 colour configuration with dual printheads and a dual ink supply whereas the S80600 has a 9 colour configuration with a new red ink that enables one of the widest gamuts ever seen in the signage industry. The S80600 can also be configured with white or metal ink.
The SureColor S-Series range is precision assembled using robots and laser welding and now features a strengthened construction for increased stability and parallelism at higher production speeds. An upgraded Media Feed System with Advanced Auto Tension Control (Ad-ATC) operates in conjunction with new Print Modes and MicroWeave patterns to enable output with better linearity at faster speed and reduced banding. Roll-to-roll production is also supported with easier off-line processing while output is suitable for tiling applications.
Loading, set-up and management have all been improved on the new S-Series and all models support rolls up to 45kg which can be loaded by a single operator complete with Auto Skew Correction. Auto Media Set-up enables faster and more accurate configuration with spot jobs able to be completed up to 45% faster and a new Epson Control Dashboard application enables easier control while providing access to downloadable media settings, user guides and operator tutorials. A new see-through cover also enables easier print monitoring complete with a platen light.
The new SureColor S-Series has been specifically designed to provide consistent and reliable operation with reduced maintenance. To that end a new Printhead Guard provides protection against head crashes while collecting any dust and fluff that may be carried by media. There is also a new Air Circulation System which reduces static build-up while removing airborne dust and ink droplets. A new Fabric Wiper automatically engages as required to ensure that printheads and the headguard are kept clean and operating at maximum performance. All in all these technologies combine to enable better print quality, reduced wastage, and a 50% reduction in maintenance and cleaning.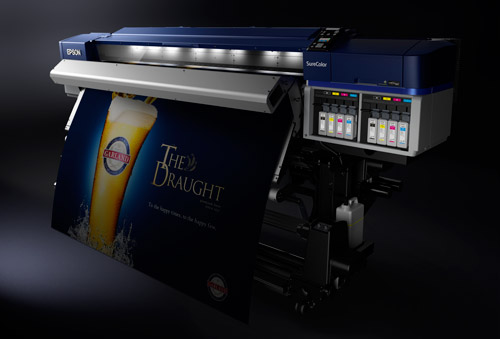 SC-S60600
With the constant search to lower running costs very much at the forefront of the industry, the new S-Series delivers here too. All three models use less power than their predecessors and considerably less than competing signage printers. All three printers use up to 15% less ink than previous models, 25% less than competing solvent models and 50% less than competing ink technologies. The new ink is also cheaper than its predecessor.
The new SureColor SC-S40600, SC-S60600 and SC-S80600 are backed with a 'head-n-all' one year on-site warranty. Cover can be extended using flexible, comprehensive and cost-effective Epson CoverPlus packages up to as long as five years.
For more information on the new S-series go to:
Epson SureColor-S40600
Epson SureColor-S60600
Epson SureColor-S80600
---
More detail on some of the key features
The following new features enhance reliability, productivity and quality, including:
Epson PrecisionCore TFP printheads: While alternative head technologies heat the ink to create droplets, Epson employs a patented Micropiezo operation. The system enables higher resolution dots to be created with more precise volume, shape and placement control. It uses less power, is kinder on the ink and kinder on the hardware. Colour accuracy and mechanical durability is higher while users save the cost of and time wastage involved with regular head replacement.
Epson Precision Dot Technology – Epson printheads employ Variable Size Droplet Technology (VSDT). An upgraded LUT enables superior half-tone colour with optimum ink application. New Microweave patterns and Print Modes have enabled print speeds in the new models to be increased up to 29% with increased colour consistency, reduced banding and grain.
Upgraded Media Feed System: A new 'mushroom' paper path enables smoother media movement. A three times larger feed roller works in conjunction with three times the number of pressure rollers to enable more consistent tracking while using reduced nipping pressure. The AD-ATC actively manages the roll un-winder and media feed motors to ensure consistent tension for additional tracking improvement. All these features operate together to reduce lateral, speed and angular variations. Image positional and lineal imaging accuracy is improved while the propensity for head strikes and media damage is reduced. Tension consistency and parallelism on the Auto Take-Up is also greatly enhanced.
Auto Media Set-Up: Correct media setting enables optimum print quality at maximum production speeds. Traditionally signage printers required a considerable number of settings to be adjusted each time media was changed and a lot of testing whenever new media was employed. Epson has undertaken testing on a wide variety of common media to determine the optimal settings and have made these available for downloaded through the new Epson Control Dashboard application. The printer attempts to identify media when it is loaded and supports manual selection where this is not possible. Configuration for unknown media has also been made simpler, requiring less time and less media wastage.
Auto Head Cleaning: A Fabric wiper automatically engages to remove ink build up from the heads and fluff build up from the headguard. The cleaning interval is user adjustable and the unit is designed to be replaced as part of the regular user maintenance (replacements are included as part of a $129.95 User Maintenance Kit that also includes filters for the new Air Circulation System kit and is designed to last 3-6 months).
International Press Releases
Read them at: http://www.epson.co.jp/e/newsroom/newsroom_index.htm