Press Releases
Epson launches new F-Series Dye-sublimation printers
August 2015
SureColor SC-F9200, SC-F7200 and SC-F6200 models
SYDNEY, 4 August 2015 - Epson Australia today announced that it has launched three new dye-sublimation printers to help users produce superior-quality textiles and promotional goods simply, reliably and cost effectively. The new range is also designed to enable production of interior décor with imaging onto hard surfaces. The Epson SureColor SC-F9200, SC-F7200 and SC-F6200 printers are backed with full factory warranty and service support, allowing producers to benefit from Epson's high-quality output with peace of mind.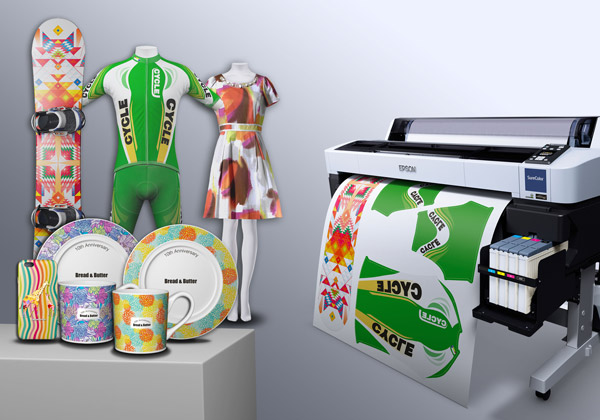 The F6200 is designed for imaging onto hard surfaces, custom clothing & merchandise production
These new models enhance Epson's dye-sublimation line-up by offering customers the chance to expand their production capabilities with enhanced production flexibility, improved colour and lower running costs. The new SC-F6200 replaces the SC-F6000 with support for a new High Density Black ink (HDK), a new High Quality Print mode and a new bulk waste system. It is designed for sheet based production and is particularly suited to custom clothing, merchandise and hard surface work. The new SC-F7200 replaces the SC-F7100 with support for the new HDK ink and HQ Print mode. This 64" machine is designed for roll based production and is particularly suited to custom fabric and soft signage work with an adjustable output heater and precision auto take-up.
The new high speed SC-F9200 offers almost twice the performance of the SC-F7200 with dual print heads, dual high-capacity Continuous Ink Supply Systems (CISS) and a maximum print speed of just over 100m2/hr.
General Manager, Business Division, Epson Australia Craig Heckenberg said, "With these new models, we have utilised the latest Epson engineering advancements to deliver outstanding colour, precision and performance to our customers. With its new and enhanced capabilities, the SC-F6200 opens up a plethora of new possibilities in the merchandise, home and office decor markets with the ability to print custom graphics and high resolution photos onto substrates that include metal and wood. Alongside this, the SC-F7200 and F9200 offer significant opportunities to the roll-to-roll textile and soft signage markets with scalable, cost-effective production."
All three printers utilise Epson's PrecisionCore TFP printhead to produce outstanding, accurate prints with superb colours and clarity. These work in tandem with the UltraChrome DS ink-set to help users achieve the best-possible results. Epson developed the new High Density Black ink to enable deep, neutral blacks and dense colour for intense images with reduced ink consumption.
Dye-sublimation customers purchasing these products will benefit from a complete Epson printing package. The hardware, software, print head, ink and sublimation papers have been made and are supported by one manufacturer to ensure everything works together seamlessly. The printers are offered with optional ErgoSoft software that has been customised for Epson meaning users are ready to start printing straight away, without the need for further investment.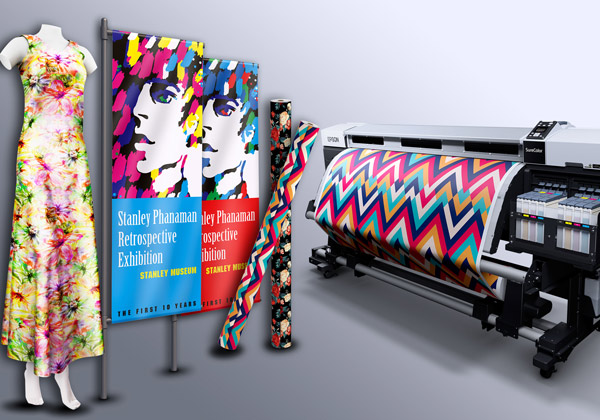 The F7100 & F9200 are designed for soft signage, décor and fabric production
Furthermore, all models include a number of ways to help customers keep their costs low. High-capacity ink systems mean a low printing cost per square metre, while the use of Epson's genuine inks ensures less cleaning and fewer printhead replacements are needed to help reduce possible downtime. Disposing of waste ink is now easier and more cost-effective as all printers now include a two-litre bottle to collect wastage.
Epson's new F-Series printers are priced inclusive of hardware delivery and installation costs within all capital cities across Australia along with 1 year warranty and optional service packs which provide cover for up to three years.
Upgrades from the SC-F6000 and SC-F7100 are being released simultaneously with the new models to enable current SC-F6000 and SC-F7100 users to take advantage of most of the new features incorporated in the new models. Upgrades require an on-site service visit and have been priced competitively.
All of Epson's new F-series printers commence shipping mid-August in Australia with New Zealand following directly thereafter.
www.epson.com.au/textile
Picture credits:
Epson's new SureColor SC-F9200, SC-F7200 and SC-F6200 dye-sublimation printers
---
About Epson and Epson Australia
Epson's global product line up ranges from inkjet printers and printing systems, 3LCD projectors and industrial robots to sensors and other micro devices. Led by the Japan-based Seiko Epson Corporation, the Epson Group comprises more than 68,000 employees in 96 companies around the world.

Epson Australia offers an extensive array of award-winning image capture and image output products for the commercial, industrial, consumer, business, photography and graphic arts markets, and is also a leading supplier of value-added point-of-sale (POS) solutions for the retail market. Epson is the market leader in Australia and worldwide in sales of projectors for the home, office and education. Established in 1983 Epson Australia is headquartered in North Ryde NSW and is a subsidiary of the Epson Group headquartered in Japan.
www.epson.com.au
International Press Releases
Read them at: http://www.epson.co.jp/e/newsroom/newsroom_index.htm