Press Releases
Independent Photographic Supplies (IPS) installs multiple Epson SureLab SL-D3000 dry-film minilabs at Academy School Photography and Production
February 2016
First of its kind unique installation
SYDNEY, 9 February 2016 – Independent Photographic Supplies (IPS) was established by Stuart Holmes and Rob Voysey in August 2003 with the aim of providing a specialist range of photographic services and equipment to photolab operators across Australia. Recently IPS installed multiple Epson SureLab SL-D3000 dry-film minilabs at Academy School Photography and Production (Academy) in Adelaide in what was the first installation of its type anywhere in the world.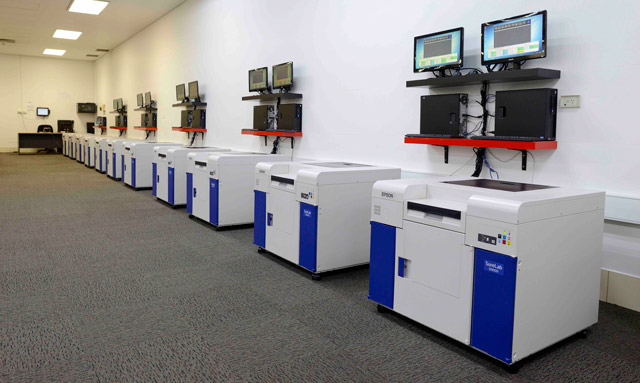 Rob Voysey explained, "Having spent over 30 years in technical, sales and marketing support services to the photographic industry, Stuart and I formed IPS to take the independent supply of photo consumables to a new level. IPS works to evaluate all emerging technologies and products so we can offer the best brands with the best tech support and value added services. We always had the highest respect for Epson and understood they were the market leader in wide format inkjet printing. For the last eight years, IPS has been representing another manufacturer's inkjet photo lab that has utilised Epson print head technology. However, we found that traditional dry lab printers were more suited to retail specialty photo and did not meet true professional photolab requirements. That was until the Epson SL-D3000 arrived on the market with performance and quality that met these standards. With the history and knowledge that we have accumulated over time, it didn't take long for us to realise that the SL-D3000 is the lab that we had been looking for and more importantly it was the ideal solution for Academy in Adelaide."
The SureLab SL-D3000 is designed for volume production with high precision and output flexibility. It features an Epson Micro Piezo™ printhead that supports resolutions up to 1440 x 1440 dpi using six colours and Variable Sized Droplet Technology (VSDT) for output with an outstanding gamut range and precise, adjustable colour density. The printer will produce prints up to 12" x 48" on gloss, lustre, matte and metallic media. It operates at speeds up to 750 prints per hour, and offers a high production life backed with flexible warranty cover. It also uses an advanced Epson UltraChrome™ ink set and incorporates a media output heater so prints exit dry with a quality gloss finish. Media rolls are easy to exchange in the single roll (SR) version, with a dual-roll (DR) model also available with automatic exchange. The printer is designed for network connection and ships with a powerful and easy to use Windows® driver. Optional Epson Job Control software can be used to drive one or more printers complete with costing/pricing, image editing, production management and scheduling. An optional Print Sorter can be also be added for efficient batch processing.
The main factors that led the Academy to select the SureLab SL-D3000 for their production work were quality of print, repeatability and consistency. They also like the efficiency of multiple labs running side by side rather than a single large machine.
Voysey continued, "The SL-D3000's six colour ink system delivers the largest possible print gamut. This colour capability surpasses what was considered the best professional standard in photographic printing from the conventional silver halide 'wet' process. In one of our early tests we included running a set of test prints, then over a six week period we printed over 180 rolls of 10" paper - that's three cubic pallets or 90,000 8"x10" prints! On reprinting the test prints the lab staff could not find any difference from the prints printed on day one. In that whole period the printer had not been recalibrated or missed a beat of any kind, not even a paper jam. Our final test was having several printers side by side. By making fine adjustments we were able to have identical prints coming off each printer which has always been a problem in large production labs. Traditionally if a reprint has to be made from a long print run, it would only match if it was sent through on the same printer - this is now a thing of the past. When all was said and done our assessment of the SL-D3000 was that it produces professional, identical, beautiful prints that can consistently be printed from one day to the next with no major operator intervention."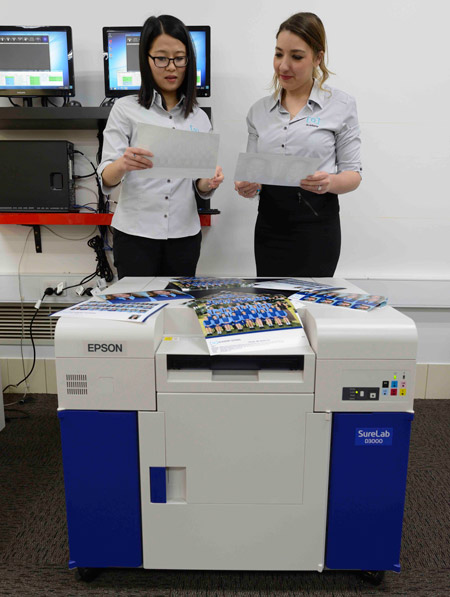 The SL-D3000 has a unique auto-head sensing technology which addresses the 'white line' issues associated with high volume dry lab printing which appear when a head blocks.
Voysey commented, "Other drylabs have been plagued with similar white line problems up until now, with labs claiming astronomical wastage because the operator found that a nozzle had blocked and a pile of prints had to be discarded. Thanks to the D3000's auto-head sensing technology this is now a thing of the past. An operator can have a large number of printers in operation, feeding them paper and ink and taking the finished print off the back with no more white lines."
IPS were also particularly impressed with Epson's sales, service and support. Voysey added, "on top of the product quality, we have the backing of a really professional supplier in Epson. It is no surprise that with the quality and performance we established in independent testing, Epson provide great support and back their product with a full three year parts and labour warranty. This is well justified as the SL-D3000 is in its own class. It is no understatement to say that we have been looking for the future in professional photographic lab solutions for the last ten years and the SL-D3000 is it. Every other contemporary offering falls well short of this honour."
As one of the leading photography services schools in Australia, Academy now has a state of the art photo printing workflow that is one of the most efficient in the world. Only one operator is required to keep the printers 'fed' and print editors can test on one printer and print on another simultaneously meaning that urgent jobs do not need to wait in any queue.
Voysey continued, "The good news doesn't end there as IPS have developed our own workflow software, Image Flow Manger (IPS IFM), that communicates with the Epson printer network. One of the typical problems in the photo lab world is getting the captured image to the printer. There are excellent software packages that take care of all the 'front end' and 'in lab' workflow but the final link to the printer generally falls short. As a special project with the Academy's proposed installation, IPS's technical managers scoped and flowcharted the lab's requirements as to how they wanted the work sent to the SL-D3000 printers. The IPS technical managers wrote and tested the software and by the time the school photo year kicked off it was fully functional. Now the lab can split a large order across any number of printers, direct orders based on utilisation and monitor a whole number of parameters on each printer from a central control hub. As a result we now have a complete solution for high production, high quality photo labs with Epson as the ultimate print engine and IPS' automated Image Flow Manger seamlessly delivering the prints as the organisation requires. This is a world first!"
In total Academy has thirteen Epson SureLab SL-D3000 dry-film minilabs giving them the print capacity of over 2,700 8"x10" prints per hour. Their new production capacity means that work is returned to schools and families either on time or ahead of time. This volume, produced across thirteen printers that are printing identically to such a high quality standard, is unprecedented in Australia and potentially anywhere in the world, something Rob Voysey and the team at IPS are keen to promote.
He concluded, "The fact that the same image can be printed on all of the thirteen SL-D3000 printers then have the prints laid out on a viewing table and the lab staff can't pick any visual difference between them is testament to the fact that we have a breakthrough product – a real gamechanger. This might sound a bit gushy but frankly it's the truth. We are delighted with the total support from Epson Australia - the local staff from top to bottom are 'can do' people. As an independent photo specialty supplier, IPS have had to earn our position in the market the hard way. Epson treat us like a real partner. We are really pleased with the relationship. That relationship together with such a standout and unique product as the Epson SureLab SL-D3000 dry-film minilab is a real winning combination both in Australia and across the rest of the world."
For more on IPS go to: www.iphoto.net.au/epson.aspx
Picture credit:
Epson SureLab SL-D3000 dry-film minilabs in situ at the Academy School Photography and Production in Adelaide.
---
About Epson
Epson is a global technology leader dedicated to driving innovations and exceeding customer expectations in printing, visual communications, quality of life and manufacturing. Epson's lineup ranges from inkjet printers, printing systems and 3LCD projectors to industrial robots, smart glasses and sensing systems and is based on original compact, energy-saving, and high-precision technologies.
Led by the Japan-based Seiko Epson Corporation, the Epson Group comprises nearly 70,000 employees in 94 companies around the world, and is proud of its contributions to the communities in which it operates and its ongoing efforts to reduce environmental burdens.
http://global.epson.com/
Epson Australia offers an extensive array of award-winning image capture and image output products for the commercial, industrial, consumer, business, photography and graphic arts markets, and is also a leading supplier of value-added point-of-sale (POS) solutions for the retail market. Epson is the market leader in Australia and worldwide in sales of projectors for the home, office and education. Established in 1983 Epson Australia is headquartered in North Ryde NSW and is a subsidiary of the Epson Group headquartered in Japan. www.epson.com.au
About Independent Photographic Supplies Independent Photographic Supplies Pty Ltd (IPS) was established by Stuart Holmes and Rob Voysey in August 2003 with the aim of providing a range of quality photographic consumables to Photolab Operators and offers an unbeatable combination of:
Superior Quality Products
Better levels of Service than Previously Experienced
Significant Cost Reductions, Better Value Proposition
Trading as iPhoto (www.iphoto.net.au), the business is based in Sydney, Australia but has a distribution network that supplies labs throughout the country. iPhoto has local Technical Sales Representatives based in every State of Australia and in New Zealand, having more than 250 years of combined industry experience in Local and Overseas Markets.
iPhoto's aim is to help Photolab Operators to contain their Consumables Costs & remain Profitable in a marketplace with increasing cost pressures.
Talk to your Local IPS Business Manager at: www.iphoto.net.au/contact.aspx
More information on Epson Surelab at: www.iphoto.net.au/epson.aspx
International Press Releases
Read them at: http://www.epson.co.jp/e/newsroom/newsroom_index.htm