Press Releases
FLASH GRAPHICS LIGHTS UP WITH EPSON SC-F7200
March 2016
Buys and installs new machine at Brisbane offices
SYDNEY, 3 March 2016 – Established in 1986, Flash Photobition has production facilities in Sydney, Brisbane and Canberra and is part of a global network with associated offices in Hong Kong, Tokyo, Los Angeles, New York, London, and other locations worldwide. Flash directly employs more than 100 staff and has twice been nominated as one of Australia's top 100, fastest growing businesses. Recently, and off the back of the success the company has enjoyed with the Epson SC-F7100 large format printer Flash purchased an Epson SureColor SC-F7200 printer for their Brisbane facility.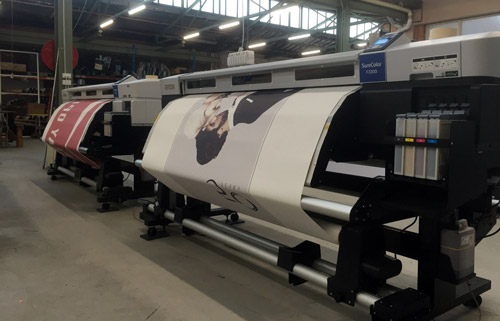 Flash's Fredrik Uden explained, "The SC-F7200 is an amazing printer. The accuracy of dot placement and the fineness of the dot in conjunction with a great take up system is incredible. The SC-F7100 and SC-F7200 printers are used exclusively for transfer paper printing and dye sublimating to our finest stocks as they produce a print quality rivalled by nothing else. We have seen a great upswing in fabric printing and our focus is the customers that appreciate the combination of great fabric handled with photographic detailing. Once you get used to Epson quality it is hard to consider other coarser printing systems for fabrics from other suppliers."
When the Epson SureColor Fabric DS series was first released it represented a revolution; designed from the ground up for Dye Sublimation, it provided one of the first turn-key single-vendor production platforms. Today it continues to lead the way with predictable, consistent and superior image quality that is augmented with a range of models to suit different production requirements. The F7200 combines wide format output with low running costs, and efficient roll to roll operation. It suits production of clothing, soft signage, and printed fabrics. Prints are made on paper which is then transferred (sublimated) via a heat press onto material that contains a polyester base or has received a polyester pre-treatment.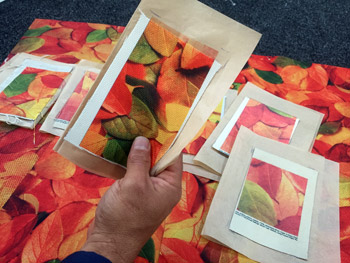 The SC-F7200 is designed to operate in conjunction with a calendar style heat press. It combines Epson's advanced PrecisionCore™ print head with UltraChrome® DS ink, a Continuous Ink Supply System (CISS), 64" wide print engine with media output heater, and high precision Auto Take-Up. The head enables high resolution output with adjustable dot sizing, precise ink density and placement control. The ink supports a wide range of industry standard transfer media with output that is not only cost-effective but has predictable and precise colour. The engine, supply system and ATU all work together to facilitate continuous roll-to-roll printing at speeds up to 58.9m2/hr for an efficient production process.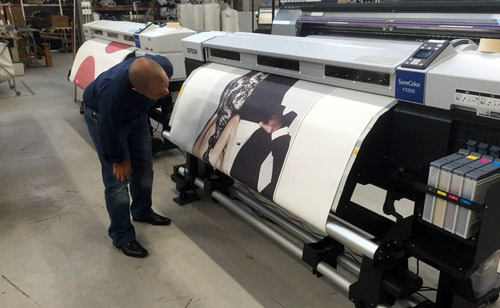 One of the F7200's operators in Brisbane is Mark Jackman who added, "As Fred mentioned we were very impressed with quality and design of the F7100 and we needed more throughput so, as the Epson platform is so easy to incorporate into our workflow the F7200 was a no brainer. There are several key factors and features we love about the F7200. It has a good media feeding system, including platen vacuum that allows for fast printing at high quality with great consistency. Its inkset delivers excellent gamut with less service issues around printheads, dampers and ink lines. Also it delivers high definition output transfers well to other media besides display and flag, for example metals, ceramics and interior furnishings."
Flash now use their new SC-F7200 mainly for promotional flags for galleries, theatres, retailers, seasonal retail branding, specialty printing to metals and technical textiles for art and interiors markets.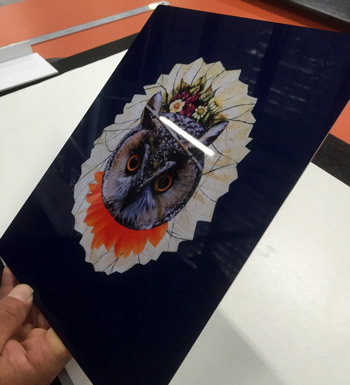 Mark Jackman concluded, "It's very hard to fault the F7200 as it really is an excellent printer. For example, dye sub printing to paper generally requires a temperature and humidity controlled environment however, when you use the F7200 which has higher tolerance for temperature and humidity, you can easily get a particularly high quality and consistent output every time."
Picture Credit
SC-F7100 and SC-F7200 printers in action at Flash Floral images to technical textiles (upholstery home furnishings) Art piece to "chromalux" (aluminium dye-sub) which requires a very high quality printer hence being produced by the SC-F7200
---
About Epson and Epson Australia
Epson's global product line up ranges from inkjet printers and printing systems, 3LCD projectors and industrial robots to sensors and other micro devices. Led by the Japan-based Seiko Epson Corporation, the Epson Group comprises more than 68,000 employees in 96 companies around the world.
Epson Australia offers an extensive array of award-winning image capture and image output products for the commercial, industrial, consumer, business, photography and graphic arts markets, and is also a leading supplier of value-added point-of-sale (POS) solutions for the retail market. Epson is the market leader in Australia and worldwide in sales of projectors for the home, office and education. Established in 1983 Epson Australia is headquartered in North Ryde NSW and is a subsidiary of the Epson Group headquartered in Japan. www.epson.com.au
International Press Releases
Read them at: http://www.epson.co.jp/e/newsroom/newsroom_index.htm