Press Releases
Epson large format SureColor SC-T7200D technical printer is Fair Dinkum
March 2016
Purchased and used by Dinkums Print & Design
SYDNEY, 7 March 2016 – For Dinkums Print & Design based in the city suburb of Carlton in Melbourne, embracing new technology in the competitive wide format market was inevitable. Having recently purchased two new high speed digital presses and one high speed wide format inkjet printer, owner John Wilson, a relative newcomer to the print for pay market, was looking for other ways to add value to the business. The solution came in the form of an Epson SureColor SC-T7200D supplied by Epson partner Fuji Xerox Australia.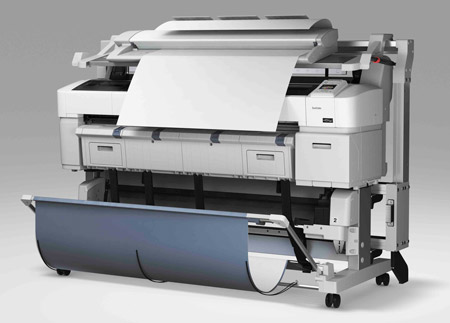 The Epson SureColor Technical series is a versatile and compact range of printers. They are designed for users who need to produce large-format colour and black-and-white images, economically and at high speed. They are compatible with a wide range of media from thin specialist stocks, to basic bond paper, to thick board. They support ultra-high resolution print with dense and consistent colour. They are ideal for maps, plans, drawings, schematics, sales presentations, posters and displays.
Wilson brings a wealth of marketing and sales experience to Dinkums Print & Design having held senior marketing roles within a number of global organisations like Honda and Bayer Cropscience. In the short twelve months he has owned Dinkums Print & Design, the equipment inventory has expanded to accommodate a growing list of new technology print devices.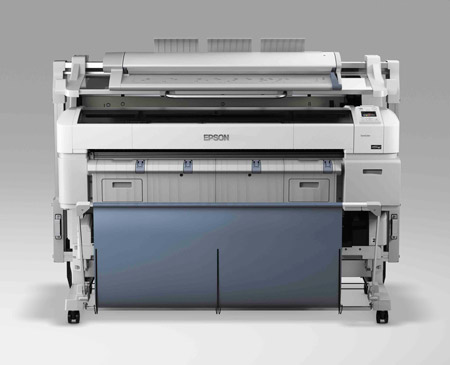 Wilson's purchasing philosophy is to choose a global market leading brand and partner with them. He believes the right choice of hardware goes beyond just the piece of equipment being considered. After discussions with the team at Fuji Xerox, the Epson SureColor SC-T7200D was purchased to replace two older wide format printers that were owned outright. With both old pieces of wide format equipment attracting additional costs for ink and toner pearls, John Wilson decided that consolidating to one high quality, scan capable multi-function device, Epson's SC-T7200D, made good financial sense and met his performance requirements.
With full training provided by Fuji Xerox Australia, the Epson SureColor SC-T7200D large format multifunction print solution has proven to be a cost effective, quiet, well-built and efficient solution for Dinkums Print and Design. The SC-T7200D also offers the company very attractive running costs with low power consumption and large 700ml ink cartridges with low cost per ml pricing. Going from two large format print devices to one with the SC-T7200D, John Wilson has been pleasantly surprised by the Epson print speed. Initially he was worried about reducing printer numbers but now sees print jobs going through without any compromise.
Picture Credit
Epson SureColor SC-T7200D
---
About Epson and Epson Australia
Epson is a global technology leader dedicated to driving innovations and exceeding customer expectations in printing, visual communications, quality of life and manufacturing. Epson's lineup ranges from inkjet printers, printing systems and 3LCD projectors to industrial robots, smart glasses and sensing systems and is based on original compact, energy-saving, and high-precision technologies. Led by the Japan-based Seiko Epson Corporation, the Epson Group comprises nearly 70,000 employees in 94 companies around the world, and is proud of its contributions to the communities in which it operates and its ongoing efforts to reduce environmental burdens.
http://global.epson.com/
Epson Australia offers an extensive array of award-winning image capture and image output products for the commercial, industrial, consumer, business, photography and graphic arts markets, and is also a leading supplier of value-added point-of-sale (POS) solutions for the retail market. Epson is the market leader in Australia and worldwide in sales of projectors for the home, office and education. Established in 1983 Epson Australia is headquartered in North Ryde NSW and is a subsidiary of the Epson Group headquartered in Japan.
www.epson.com.au
International Press Releases
Read them at: http://www.epson.co.jp/e/newsroom/newsroom_index.htm