Press Releases
Abel Labels gets ready and willing with Epson SurePress L-4033AW printer
June 2016
Major investment in high quality digital printer
SYDNEY, 21 June 2016 – Abel Labels prides itself on serving Tasmanian businesses and individuals through the provision of high quality products, customer service and advice. Recently the company invested in an Epson SurePress L-4033AW printer to add a powerful digital printing option to their already impressive inventory of equipment and services.
Abel Labels Managing Director Trent Cowen explained, "It was clearly noticeable that our customer's quality expectations had increased and that we needed to invest in appropriated equipment to meet these expectations. We had played with desktop sized digital machines previously but needed a better quality machine. That's where the Epson SurePress L-4033AW printer came in."
Cowen was looking for a high quality printer that would deliver the results he required and that wouldn't break the bank.
He continued, "Pricing at the lower end of price bracket on the L-4033AW brought forward our entry into the digital market. The other major factor was having a machine that could print on untreated stocks which meant we didn't have to hold additional stock and run the risk of having stocks mixed up. Going digital also reduced pre-press times and the need for plates to be made or purchased."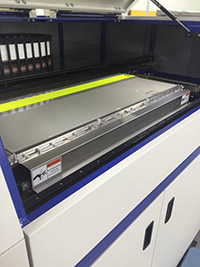 A word you hear a lot at Abel Labels is 'quality'. It's one of the cornerstones of the company's success and Cowen added, "The L-4033AW impressed us from the get go with the quality of the print and the fast changeover from one job to the next being the deal breakers. Being able to leave the press running and monitoring jobs from your computer was another big plus."
Cowen and his team had done their research before purchasing the L-4033AW and the evaluation process kept returning them to the Epson printer above all others.
He added, "We hadn't looked at any other printers apart from the HP at trade shows but the price differential between the Epson and the other digital presses on the market was substantial. We heard comments from people within the industry that the Epson's quality is above all other competitors so it really was a no-brainer."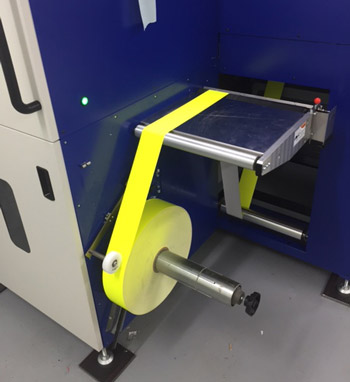 According to Cowen by purchasing the L-4033AW Abel Labels now has an edge over its competitors it never had before as he explained, "The SurePress has put us in the market for short run, high class, multi-colour jobs. The flexographic and letterpress equipment we have cannot do this. We are the first label printer in Tasmania to install a serious digital press. This gives us an advantage in quality and flexibility over our local competitors. It places us much closer to our interstate competitors in terms of what we can offer to our customers."
Abel Labels keeps the L-4033AW running continuously and looks to transfer many existing jobs from letterpress machines to the digital printer wherever possible.
Cowen continued, "We also try to gang up as many jobs as possible on the same stock so that they can go to be finished on the same roll. A roll of digital labels coming off the Epson may have five different jobs on it which can go through our die cutting machine the same way. We have a climate controlled room for the Epson. Labels produced on the Epson are used mainly in the packaging of Tasmania's gourmet foods and drinks. We have produced labels for whisky, wine, beer and cider as well as sauces and relishes. Almost anything is possible."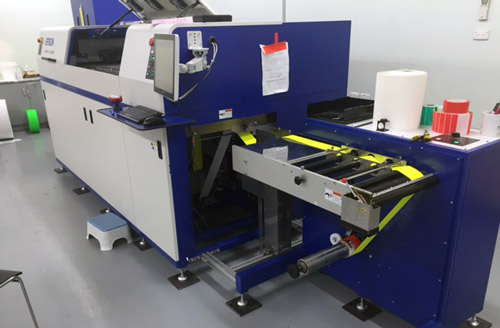 So with the L-4033AW firmly entrenched and making money for Abel Labels you could say that Trent Cowen was very pleased with his latest purchase as he concluded, "The printer excels when printing quality images on textured stocks. There's also less pre-press by not needing to trap complex images and that saves a great deal of pre-press time. Finally our production costs have been reduced through less job preparation, setup and stock waste."
Picture Credit
The new Epson SurePress L-4033AW printer at Abel Labels
---
About Epson and Epson Australia
Epson is a global technology leader dedicated to connecting people, things and information with its original efficient, compact and precision technologies. With a lineup that ranges from inkjet printers and digital printing systems to 3LCD projectors, smart glasses, sensing systems and industrial robots, the company is focused on driving innovations and exceeding customer expectations in inkjet, visual communications, wearables and robotics. Led by the Japan-based Seiko Epson Corporation, the Epson Group comprises more than 67,000 employees in 90 companies around the world, and is proud of its contributions to the communities in which it operates and its ongoing efforts to reduce environmental impacts.
Epson Australia offers an extensive array of award-winning image capture and image output products for the commercial, industrial, consumer, business, photography and graphic arts markets, and is also a leading supplier of value-added point-of-sale (POS) solutions for the retail market. Epson is the market leader in Australia and worldwide in sales of projectors for the home, office and education. Established in 1983 Epson Australia is headquartered in North Ryde NSW and is a subsidiary of the Epson Group headquartered in Japan.
www.epson.com.au
International Press Releases
Read them at: http://www.epson.co.jp/e/newsroom/newsroom_index.htm