Press Releases
Epson Perfection V100 Photo and Perfection V350 Photo scanners for easy restoration and archiving
August 2006
Sydney, 28 August 2006: Epson has released the new slimline Epson Perfection V100 Photo and Perfection V350 Photo Scanners with versatile film scanning technology for photo enthusiasts and advanced amateur photographers who want to easily restore and archive precious photos, negatives slides and family documents, as well as scan items for creative projects with ease.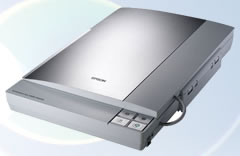 The Perfection V100 Photo is Epsonís new entry level scanner and at just 57mm in height is also Epsonís slimmest scanner, while the Perfection V350 Photo with a height of 73mm and weight of 2.9kg is the slimmest and lightest scanner in its class.
Both scanners are ideal for home with minimal desk space. Epsonís slimline design is possible through the use of innovative new technology. Each scanner uses a smaller CCD and PCB board along with a thinner motor and a shorter light track. The main board and carriage are now side by side rather than on top of each other, saving significant space.
Both the Perfection V100 Photo and the Perfection V350 Photo feature a high optical density rating of 3.2Dmax, capturing true to life image reproduction. Scans produce accurate colour, natural skin tones and more details in highlight and shadow areas.
The Perfection V100 Photoís optical resolution of 3200dpi and interpolation resolution of 9600dpi produces the highest resolution scanning in its class, while the Perfection V350 Photo has a resolution of 4800 x 9600dpi. Both scanners feature Epsonís innovative Matrix CCD (Charge Coupled Device) sensor and Micro Lens technology, producing scans with a full tonal range and smoother gradation.
Scanning film and slides is easy with the Perfection V100 Photoís integrated Transparency Unit, which allows for simultaneous scanning of six frames of 35mm film or four frames of 35mm slide mounted film.
The Perfection V350 Photo is ideal for home users who want to digitise large quantities of film. The integrated Transparency Unit includes an Auto Film Holder which allows users to scan up to six frames of 35mm strip film at a time. Scanning slide mounted 35mm film is also a straightforward process. Users can simultaneously scan three frames of 35mm strip film or two frames of slide mounted 35mm film.
Rather than relying on the PCís processor and memory, both scanners feature Epsonís Application Specific Integrated Circuit (ASIC) hyper processor which makes scanning faster. A negative film scan at 3200dpi can be completed in 122 seconds with the Perfection V100 Photo while the Perfection V350 Photo completes a negative film scan at 2400dpi in 101 seconds, making both scanners faster than most major competitors.
The Perfection V100 Photo and Perfection V350 Photo scanners come bundled with a great range of software ideal for the home user. Included are Colour Restoration, Grain Removal and an improved Dust Removal function which effectively removes the effects of dust while leaving original details intact.
Both scanners now include Backlight Correction, a new function which uses an image histogram to judge and adjust colour balance where necessary, significantly reducing the occurrence of overexposure and colour saturation. An enhanced version of Epson Scan now features improved troubleshooting functions, making scanning an even easier process for the home user.
The Epson Perfection V100 Photo has an RRP of $249 including GST and the Epson Perfection V350 Photo has an RRP of $399 including GST. Both scanners are available through Epson dealers. For full product specifications on this and other Epson scanners please refer to www.epson.com.au.

High resolution images are available at:
http://www.channel.epson.com.au/
where you can log in using the email address
media@epson.com.au
and password <media>.
To obtain a sample for media review, please contact Janina Nowowiejska at CommunEcom Strategic Communications on 02 9949 9788 or 0415 244 615 or via email at
janina@communecom.com.au
.
International Press Releases
Read them at: http://www.epson.co.jp/e/newsroom/newsroom_index.htm