Epson UltraChrome DS Ink - HD Black 1.1L x 6pcs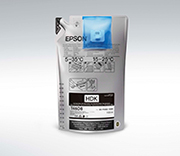 Large Format Ink Cartridges
Epson's UltraChrome DS Ink is designed to support production of a wide range of items from fabrics and garments, to signage and décor. It adheres quickly, transfers smoothly and provides excellent light and wash fastness. The base 4 colour ink set is extremely vibrant and when applied with Epson print technology it enables output with gradation and gamut levels that exceed competitors 6 and 8 colour sets.

HDk ink is generally recommended for fabric and soft signage work where it provides output with enhanced colour intensity. HDk is subject to settling and is highly heat sensitive. It must be transported, stored and used at between 15 and 25o C. Ink must be well shaken before adding to the CISS, regularly stirred and consumed within 2-3 weeks of opening.

Alternative Standard Black ink (C13T46D140) is recommended for customers who focus on hard signage or merchandise production &/or have low/fluctuating production requirements.