Epson UltraChrome DG Ink – Yellow 250ml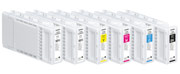 Large Format Ink Cartridges
Epson UltraChrome DG Ink was developed for Direct To Garment (DTG) printing. Its primary application is for customisation and value-adding on T-shirts, Polo shirts, jeans and sweats. It can also be used for a range of merchandise and décor production applications including tote bags, tea towels, pillow slips, cushions, etc. It can further be used for customisation on specialty items such as caps, hats and shoes (please consult with your dealer on suitability and sourcing of appropriate platens). The ink adheres best to fabric with a moderate-loose weave and high cotton content. It will also work with a range of alternative natural, man-made, and mixed fibre fabrics, however results will vary with customers strongly recommended to perform print and wash durability testing prior to commencement of production. It should further be noted that ink will generally not adhere to fabric that has a very fine weave, an extremely smooth finish, or has been treated with a water or dirt repellent.

Epson DG Ink supports imaging on the widest range of fabrics. CYMK variants impregnate well while suffering minimal bleed. They feature a wide Gamut and high dMax for output with superior colour and image intensity. After printing the ink must be fixed in a heat press. Once fixed it produces a finish with a low tack feel that is tough and durable, with good UV/Wash resistance. Inks ship in a choice of cartridge sizes to suit different production volume and cost per print requirements. All feature a formulation that is Diethylene Glycol-free for safe operation in a variety of environments without the need for special handling or ventilation.

When fixed to fabric Epson DG ink passes the requirements of the Oeko-Tex Standard 100 for human ecological requirements of Class 1 products for adults, children, and babies up to 36 months. The Oeko-Tex Standard 100 specifies testing criteria for the presence of harmful substances within a textile product. The standard belongs to the International Association for Research and Testing in the field of Textile Ecology (Oeko-Tex).

IMPORTANT NOTICE: Cartridges should be used before the date specified on the packaging and once opened they must be consumed within one year. For optimum results it is recommended they be removed daily and shaken vigorously before reinsertion. To ensure reliable operation, Epson DTG printers undertake continuous self-cleaning & ink recycling. While printers can be switched off for periods of time, if equipment is not expected to be used for a period of more than a week then it is recommended to leave the printer on. If the printer is to be moved or not expected to be used for a period of several weeks or more then it is recommended that the extended shutdown process be performed. For further information owners are recommended to regularly check for updates to their user and operator guides and follow the instructions as outlined. Failure to follow these instructions may result in poor print quality and/or damage to the printer that would void Warranty and CoverPlus terms.