Epson DG Cotton Pre-Treatment Liquid – 20L Concentrate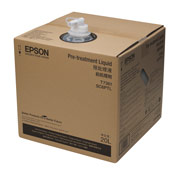 Large Format Ink Cartridges
Epson UltraChrome DG Ink was developed for Direct To Garment (DTG) printing. Its primary application is for customisation and value-adding on T-shirts, Polo shirts, jeans and sweats. It can also be used for a range of merchandise and décor production applications including tote bags, tea towels, pillow slips, cushions, etc. It can further be used for customisation on specialty items such as caps, hats and shoes (please consult with your dealer on suitability and sourcing of appropriate platens). The ink adheres best to fabric with a moderate-loose weave and high cotton content. It will also work with a range of alternative natural, man-made, and mixed fibre fabrics, however results will vary with customers strongly recommended to perform print and wash durability testing prior to commencement of production. It should further be noted that ink will generally not adhere to fabric that has a very fine weave, an extremely smooth finish, or has been treated with a water or dirt repellent.

This liquid is designed to assist with ink adhesion on fabrics with high natural fibre content. It works best with garments that feature a moderate-loose weave and 50% or more Cotton (for fabric with 50% or more Polyester use C13T43R200 instead). The product is shipped in a bulk concentrate format. On dark fabric it is generally used diluted 1:1~1:3 with distilled water. With light coloured fabric it is generally not required however when applied diluted 1:8~1:10 it can increase colour saturation but may reduce wash durability. Application can be done manually or by a machine using a roller or spray process. For best results a spray based machine is recommended. For further information on usage and application please consult the latest printer &/or product user guides.

IMPORTANT: The liquid should be agitated before use and periodically if left to stand. Never mix pre-treatment liquid with ink or ink waste, even when disposing. Adjust nozzle settings on application equipment when switching between pre-treatment liquids to ensure even and adequate coverage (there are differences in viscosity and application volume requirements). Piling & lint should be removed before liquid application (a standard lint removal tool &/or pair of tweezers can been used). After applications garments should be fully dried (naturally, in a fabric oven, or heat press) and fully flattened prior to commencement of printing (a tool for this is provided with your machine). Failure to follow these instructions may result in damage to fabric and/or damage to the printer that would void Warranty and CoverPlus terms.