Increasing Efficiency with Epson Discproducers
- Data disc burning and label printing in a single machine -
Have you heard of Epson Discproducers? Hook them up to a PC, and burn the data onto a CD, DVD or blu-ray disc. You can even print the labels without having to prepare a separate machine, greatly reducing the cost and time spent to prepare discs. And with a capacity of up to 100 discs on most models, you can start up the Epson Discproducer and leave it to finish the job while you do something else.
Since the Epson PP-100 Discproducer was launched in 2008, products in Epson's Discproducer series have been used by a wide variety of organizations including software companies, system service providers, photo print shops, schools, and local governments.
Photo quality disc label printing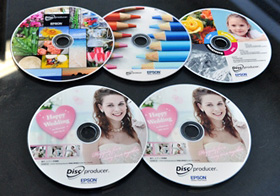 Using Epson's proprietary Micro Piezo inkjet technology, Epson Discproducers are capable of printing photo quality labels. But unlike regular inkjet printers, the printing control system is optimized for disc labels to ensure the highest quality printing. Depending on the disc type, it's also possible to achieve water resistant printing or a put a glossy finish on the disc.
A key point of Epson's lineup is the Total Disc Maker software, which allows users to register data to be burned, design the label, and publish the discs in a single operation. This easy-to-use software, which is included with the product, has a large number of templates for label design, eliminating the need for users to employ specialist design agencies or purchase expensive design software.

Original AcuGrip transportation mechanism
An important part of the product development involved the creation of a transportation mechanism that could pick up individual discs from the stacker inside the disc producer, and place them in the required position for data burning and label printing. Because the data surface is flat and smooth, there is little space between discs when they are stacked up, and they can stick together. It's therefore a lot more difficult than you may think to ensure that individual discs are transported correctly. If the gripping mechanism does not work correctly, the disc may be dropped and data damaged, or two discs may be gripped at once, leading to issues with the drive or printing mechanism.
To prevent these issues, Epson designed an arm mechanism that can accurately pick up discs from the stacker and transport them to the required place within the disc producer. Using three independently moving pickups and a kick lever the arm can accurately pick up each disc. Epson has named this specially designed arm AcuGrip, which employs the company's original robotics technology. This high-precision mechanism allows products in Epson's Discproducers series to accurately process large numbers of discs.
Since the launch of the first in its Discproducer series, Epson has developed a variety of models including those for customers who require specialist label printing and for those who need to process blu-ray discs, and has also ensured compatibility for Macintosh users. Be it in hardware or software, Epson has emphasized enhanced usability as it has developed products for use by customers around the world.