Epson Stylus Color 740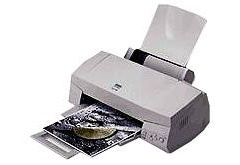 4 Colour Inkjet Printer
Superb performance for the power colour user.
The Epson Stylus COLOUR 740 incorporates the latest state-of-the-art technology to ensure it is right at home meeting the demands of the power colour user. By combining Epson's Variable-Sized Droplet Technology and Ultra Micro Dots with Epson's award winning PerfectPicture Imaging System, the Epson STYLUS COLOR 740 has created a new standard of image quality for the SOHO environment.

Variable-Sized Droplet technology allows the Epson STYLUS COLOR 740 to deliver a precisely controlled blend of small, medium and large ink droplets - the result is greater detail and smoother halftones and gradations without sacrificing print speed.

The Epson STYLUS COLOR 740 is the ideal solution for printing business presentations, desktop publishing projects and digital photographs. It's PC and Macintosh compatible and offers the advantages of USB connectivity.

An improved new user interface with a full function on-screen Status Monitor makes it easy to check ink levels and paper availability at a glance. While the new Epson PhotoEnhance(tm) function analyses your print job and makes brightness, contrast and colour adjustments automatically WITHOUT affecting the original file.

The printable area of the Epson STYLUS COLOR 740 has been increased which means you can set the margin to 3mm on all four sides of an A4 document - perfect when printing enlargements of your favourite photo.

Other new functions within the printer driver software include a 'Print Layout' function which allows several pages to be reduced and printed on a single page for proof reading. And, an innovative 'watermarking' capability which lets you choose from several predefined watermarks such as "Confidential", "Draft" and "Top Secret" or you can create your own personal watermark. The driver software also lets you control the size, colour, placement and intensity of the watermark.

EPSON's exclusive PerfectPicture Imaging System combined with new innovative driver software that's extremely simple to use, makes this printer the perfect match for any home office.