Lightfastness
Lightfastness or Permanence, is the time period of how long a displayed printout will last before noticeable fading occurs.
Listed below are several articles about Lightfastness and links to other articles on the topic including Henry Wilhelm, a leading authority on photo longevity and his comprehensive tests & findings.
Wilhelm's research shows that the output from third party ink really pales when compared to Genuine Epson ink cartridges. When it comes time to purchase printer consumables, ensure that you demand Genuine Epson inks and papers. That way you'll get the best performance, picture quality and longevity from your printouts.

(Print samples show significant fading after 10 years light exposure)

(Print samples using genuine Epson inks show minimal fading after 10 years light exposure)
Lightfastness for Inkjet Printers: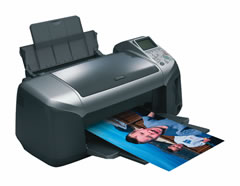 Lightfastness for PRO Graphic Printers: