Epson Order Controller Software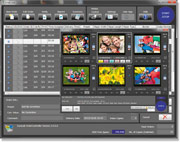 Large Format Printer Options
This optional software is designed for use with Epson SureLab printers. It provides costing/pricing, production control and scheduling functionality. It also provides basic image editing functionality (size, crop, sharpness, brightness, resolution, colour, tone, and red-eye removal) with configurable pre-sets for quick and easy processing of large jobs. Edited files can be exported and saved to a network folder, USB storage device, CD or DVD for supply back to the customer &/or input staff. When used with a D3000 printer it will drive the optional job sorter.

Order Controller runs on Windows based machines (Win 7 Pro/Ultimate 32/64Bit or higher) and is supplied as a site license linked to the physical location. The software will accept images up to 10,000 x 10,000 pixels in a variety of formats (Jpeg, tiff or bmp) either directly or from a hot folder. It can be used stand alone or in conjunction with 3rd party photo imaging and design applications. It can be used to drive one or more SureLab printers and will also drive Epson Stylus Pro Large Format Printers including SP-3880, SP-4900, SP7890, SP7900, SP-9890 & SP-9900) for premium photo, poster and canvas production.
The software can be expanded with an optional Layout & ID extension (C12C848061) that enables easy production of passport photos, images with custom borders & layouts.